When it comes to social activities, research has shown that social interaction offers individuals many benefits. Staying socially active can help you maintain good physical and emotional health. People who maintain friendships and find ways to interact socially live longer than those who become isolated.
VFI offers several activities for individuals with a wide range of events to select from. We encourage everyone to join us for a good time and take the opportunity to meet others. All classes and group activities are free and open to the public.
Aerobics
Bowling
Cooking Classes
Computer Classes
Reading Classes
Several Group Functions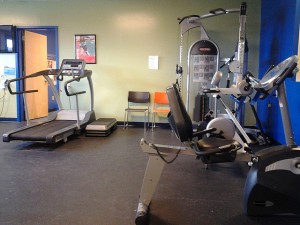 VFI is also very proud to have an onsite Fitness Center that is 100% accessible, equipped with two weight machines and several exercise machines that are adaptable for individuals with disabilities. The Fitness Center is open to the general public during regular business hours.
For a complete listing of all events, see our Calendar for details on dates, times and locations. You can also call the office for more information or contact Darleen Hadzega.