Map Unavailable
Date/Time
Date(s) - 11/25/2019
11:00 am - 2:00 pm
Location
Clarion University of Pennsylvania
Categories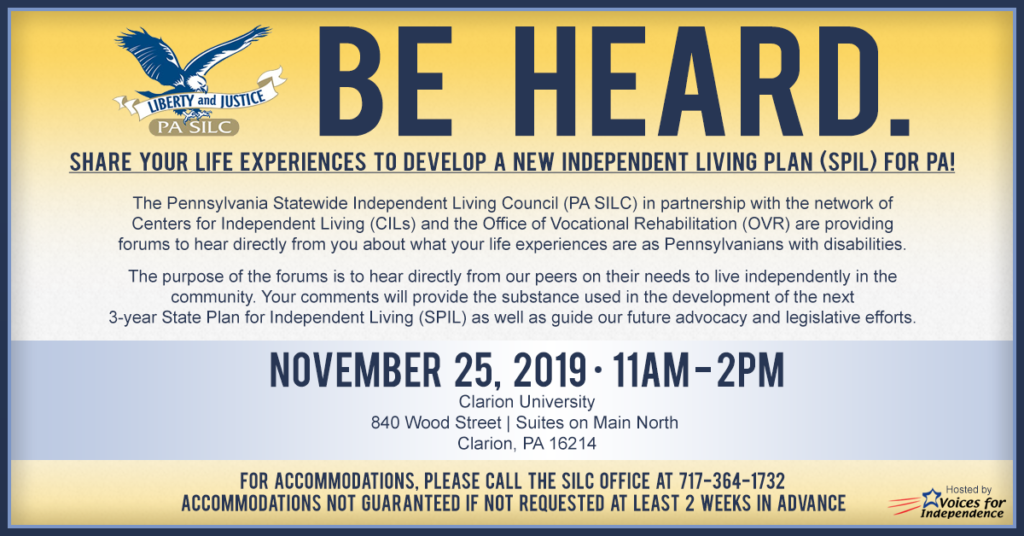 The Pennsylvania Statewide Independent Living Council (PA SILC) in partnership with the network of Centers for Independent Living (CILs) and the Office of Vocational Rehabilitation (OVR) are providing forums to hear directly from you about what your life experiences are as Pennsylvanians with disabilities.
The purpose of the forums is to hear directly from our peers on their needs to live independently in the community. Your comments will provide the substance used in the development of the next 3-year State Plan for Independent Living (SPIL), as well as guide our future advocacy and legislative efforts.
For accommodations, please call the SILC office at 717-364-1732. Accommodations not guaranteed if not requested at least 2 weeks in advance.
November 25, 2019 from 11am-2pm
Voices for Independence (VFI) will be hosting a public forum at:
Clarion University
840 Wood Street | Suites on Main North
Clarion, PA 16214
These are a few suggestions that might help you frame your thoughts:
1. Do you receive services/supports? What's working and/or needs improved?
2. Identify the top barriers to services and supports in PA.
3. Do you feel that you have full access to the community?
4. What is something you would like to see in place this year that would improve your life?
5. Is there anything else you would like to tell us about your life living in Pennsylvania as a person with a disability?
You can submit your comments to us through December 31, 2019
By mail: PA SILC | 207 House Avenue Suite 107 | Camp Hill, PA 17011
Email: spil@pasilc.org
Telephone: 717-364-1732 | Fax: 717-236-8800
Facebook: www.fb.com/PennsylvaniaSILC
Visit the Facebook event page link below, and be sure to click "INTERESTED" or "GOING" to receive notifications and any updates!
https://www.facebook.com/events/404127897164698/