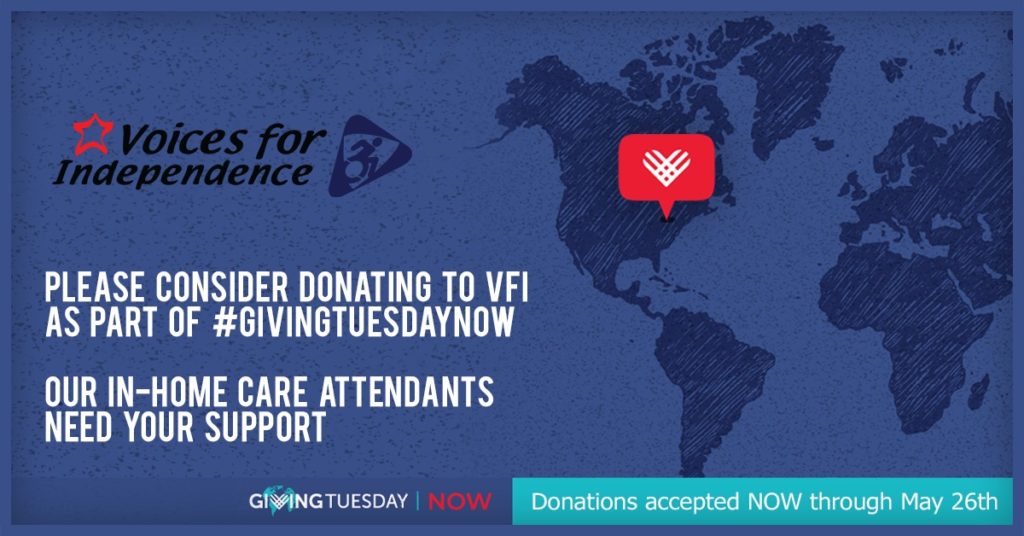 #GivingTuesdayNow is a new global day of giving and unity that will take place on May 5, 2020 as an emergency response to the unprecedented need caused by COVID-19. However, our friends at Nonprofit Hub, Do More Good, and Firespring have taken this event to new heights, establishing a matching-fund initiative that will run through May 26 – and is already accepting donations NOW. Please consider supporting VFI so that our dedicated in-home caregivers can continue to provide vital services to individuals with disabilities right here in our community.

During this unprecedented time, VFI would like to request your support. For over 25 years, Voices for Independence has empowered people with disabilities and promoted independent living. We would like to ask you to consider donating to our COVID-19 response with a monetary donation. If you are unable to do so at this time, please remember that VFI is also accepting donations of protective masks, vinyl gloves, hand sanitizer, and other equipment to help our in-home care providers protect themselves against this pandemic. Our in-home care attendants need your help– please consider sharing your support today.

To donate through the matching-fund initiative, please click HERE. We thank you for your continued support of Voices for Independence.